RAVEN LEGAL TASK FORCE / INVESTIGATION AGENCY /
INTERNATIONAL CRIMINAL INVESTIGATION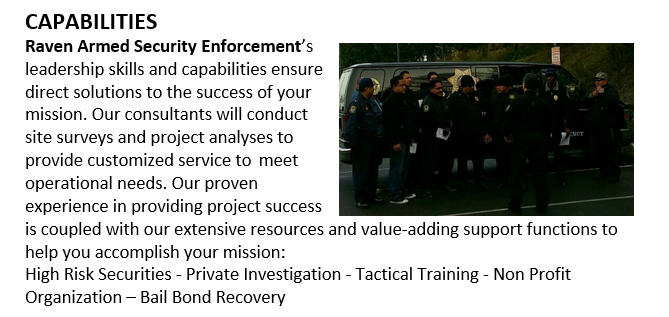 The Raven Legal Task Force is the armed security and Investigation agency. There are four license agencies under Raven Legal task Force. There is the Raven Armed Security Company in charge of armed personal body guarding and uniform security guard, the Raven Armed Private Investigation Company in charge of personal information, background check and follow-up investigation, and the Bail Bond Recovery Company for arresting the wanted, and World task Force Security College to educating people who looking for a job in the security industry.

RAVEN LEGAL TASK FORCE CLICK !
World Task Force Security College
Raven Security Enforcement & Investigation

33324 Pacific Hwy #201B Federal Way, WA 98003
USA Main office & Fax (253) 507-4537
Emergency contact / 24 Hours (253) 353-3663
KOREA (010) 2176-2949
Email: worldprivateinvestigation@gmail.com
This certifies that the business named hereon is authorized, as provided by law, as a private vocational technique college/security guard/investigator/bail bond agency WA.